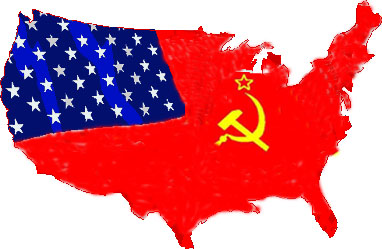 This is a good way to convince people about the need to destroy, to overthrow the capitalist system and replace it with a worker's socialist state, (a dictatorship of the workers and poor US citizens, a dictatorship of the oppressed leftists against right-wing oppressors in USA):
Tell them that USA is a capitalist nation, and that in USA the only people who reach self-realization (physically, mentally, emotionally and economically) are Tom Cruise, George Clooney, Kim Kardashian, Sophia Vergara, Donald Trump, Obama, Bush, the other members of the rich class. And the upper layer of the middle classes (Doctors, lawyers and high-wage workers like the high-rank workers of banks, contractors like Edward Snowden etc) But both (upper class and upper-middle classes are about 25% of the population of the USA)
And then there is the real USA, the other USA (A USA that is not shown in most Hollywood movies, specially not at all in the middle class bourgeoise movies like films with Adam Sandler, Ben Affleck, Robert Deniro, Tom Cruise, Robert Downey Jr. etc), the people we see every day at Wal Marts, shopping at Wal Marts, working at Wal Marts, working at Kroger supermarkets, Publix supermarkets. Young teens (who will never be able to join a university to study how to be a pilot, a doctor, lawyer, business speciallist, architect etc) and who are totally banned and barred from being somebody in life, an important person in life, from reaching a great physical image, a great mind and a great well-being of soul. Because they are forced to push supermarkets shopping carts at Wal Marts, Kroger, or delivering pizzas. They wiil never be able to reach any level of happiness at all (just tell them to look at their faces, because one doesn't need to be Freud, Carl Jung and Alfred Adler and Tonny Robbins psycho-analyst, a face-reader, a body language reader to see with their own eyes how sad are the majority of americans (70% to 80% of the population of USA) because the type of capitalism we have in USA and many countries as well, only benefits about 20% to 30% of the population. (those are the only ones who are allowed to live a happy full life physically, mentally and spiritually)
But like i said the other 70% of the population of America lives a hell on earth. And only a marxist government, a dictatorship of the proletariat, a dictatorship of the working class, of worker's government, with an 100% marxist political and economic system will be able to provide wealth, happiness and self-realization physically, mentally and spiritually for the 70% of the population of USA who right now lives a hell on earth
READ THIS GOOD WAY TO CONVINCE MOST AMERICANS THAT USA NEEDS A COMMUNIST SYSTEM.